Rita Karnopp is a fun-loving, imaginative, creator of stories that take you away . . . until you close the book. Versatile, she writes Indian historicals, suspense, thrillers, futuristic, YAs and a trilogy about the Gypsies during the Holocaust.

When not writing, Rita enjoys the Montana outdoors with her husband, Dennis, her Cockapoo, Gema, children & grandchildren, RVing with new camper, crystal digging and gold panning.

Please visit Rita at Amazon page: http://www.amazon.com/Rita-Karnopp/e/B00CNVRLTW or

BWL Publishing Inc. http://bwlpublishing.ca/authors/karnopp-rita-romance-historical-usa/

Email Rita at: ritakarnopp@bresnan.net
Click covers below to purchase from your favorite online retailer
Coming Fall of 2018
Secrets of Echo Cave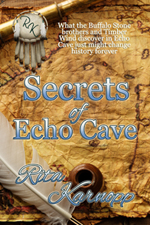 What the Buffalo Stone brothers and Timber Wind discover in Echo Cave just might change history forever or will government agents be able to destroy all traces it ever existed?
Blaise, Jordan and Lelind are spending the summer in Browning, Montana, on the Blackfeet Indian Reservation, with their grandfather and spiritual leader, Owl Feather. They stumble on a clue that triggers a search for their missing mother.
With friend, Timber Wind, they link his mother's disappearance to a rich white man, James Murphy, owner of Raven Oil. But it seems there's more than just crooked oil deals causing unrest among the people. FBI agents, Baldry and Barnicoat, are found dead fifty miles in the middle of no-where - on reservation land. Why?
Were they stealing and selling Native artifacts like the government wants them to believe? Or, would they do anything to whitewash a secret they thought long ago destroyed?
Rita's Newest Release
Young Adult Novel
Powered by 4goodhosting.com
Save