Born in London, Anita Davison connected with the history of that city at a young age. When the rest of the school trip were throwing the contents of their lunch boxes at each other, Anita imagined men in high white wigs, flared long coats and heeled shoes coming out of coffee houses, climbing into sedan chairs on the cobbles in Paternoster Row, where Christopher Wren was lowered down the outside of St Paul's Cathedral in a basket.

A portrait of James Scott, Duke of Monmouth at the National Portrait Gallery inspired her first novel based on his ill-fated rebellion against King James II in 1685 and became 'The Rebel's Daughter.'
Visit Anita's website here: https://www.anitadavison.co.uk/new-release
To Buy a book click the book covers to be taken to your favorite online bookstore or complete form in top left column to buy directly from website and receive a 25% discount
---
BOOK #11 IN THE CANADIAN HISTORICAL BRIDES COLLECTION
When she was twelve, Grace Aitken's parents were killed in a carriage accident in a London street and she became a ward of her father's business partner, Herbert MacKinnon and his wife and led a comfortable, privileged, if restrictive life at their gothic mansion in Hampstead village.
When Grace was seventeen, her pious father-in-law convinced her that she owed him a debt of gratitude which could be expunged by marrying his son, Frederick; a kind, sensitive youth two years her senior. However, after five years of childless marriage – a fault placed squarely at Grace's door, Frederick died after a bout of pneumonia.
Now 23 and Frederick's widow, her in-laws assume she will take on the role of dependent housekeeper in a home where her semi-invalid mother-in-law and two aunts adhere to the view that Grace's "wicked ways" need to be corrected, despite the fact these "sins" are no more outrageous than going for walks without a maid, or reading a Women's Suffrage pamphlet.
Grace resigns herself to being an upper servant in her father in law's house, when she discovers an inheritance from her parents has been kept in trust for her until her 21st Birthday. She concludes the MacKinnons have been lying to her and immediately formulates her escape and books passage to Halifax, Nova Scotia, on the SS Parisian from Liverpool On board she encounters Aoife [Eva] Doyle, an outspoken Irish housemaid travelling steerage, who is being sponsored as a mail-order bride for a farmer in Alberta.
The ship reaches Halifax harbour, and while they await the arrival of a pilot boat, another ship enters the port and rams the SS Parisian and holes it, causing panic. Grace's adventure takes another mysterious turn when after becoming acquainted with Lucy Maud Montgomery Grace finds herself destined for Prince Edward Island, the home of that charming and outspoken young woman.
Will Grace's plans for a new life in a foreign land finish before it has begun, or will she survive and forge her own way?
---
Helena Woulfe, the daughter of a wealthy Exeter nobleman leads a privileged life, however, when rebellion sweeps the West Country, her family is caught in its grip. After Monmouth's bloody defeat in battle at Sedgemoor, Helena sets off for Somerset to find the three missing members of her family.

With the Woulfe estate confiscated by the crown, Helena and her younger brother Henry hope the anonymity of the capital city will be more forgiving to the children of a convicted rebel. However, Helena finds her search for security and respectability in London are threatened by someone who wishes harm to a traitor's daughter.

Reviews
Diane Scott Lewis - Helena Woulfe thought her lavish life on a seventeenth-century estate would never change. When her father is on the wrong side of Monmouth's rebellion, Helena must flee the safety she's always known, and enter a dangerous world as a traitor's daughter. Anita Seymour writes with a sure hand; her knowledge of the seventeenth-century, battles and customs, sweeps you into the era. Helena is a strong, yet vulnerable character you will be intrigued to spend time with. A great story!

John Claire - Anita Seymour knows her 17th century stuff, and brings to vivid life her characters in that time frame. By the time I'd finished reading this novel, I felt I'd been there, in the countryside as Helena looks for members of her family through the broken bodies and stench of blood that are the realities of war, and as she tries to keep safe along the narrow, crowded lanes of London. Helena holds her head high, knowing everyone considers her father a traitor. Her family has lost everything in the rebellion, and with her younger brother, she tries to make a new life in the city that never sleeps. This is a novel I plan to keep on my kindle for a long time.
---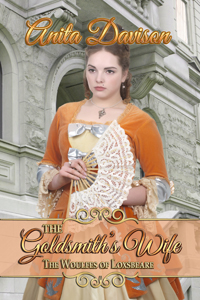 It is 1688 and in London, and Helena has what she always wanted, respectability and security, although her brothers remain a worry - Aaron schemes in Holland with the Prince of Orange to depose the reigning king James II, and Henry carries his own sorrow, pining for another man's wife.

Prince William arrives in England to re-establish the Anglican Church, and when anti-Papist riots break out in London, Helena is forced to flee from her home – again.

While Helena strives to keep what she holds dear, can she and her brothers attain what they desire and above all, will they ever learn the fate of their missing Father, who disappeared after the Battle of Sedgemoor?
---